Workflowy Task Management
Description
Workflowy provides a super simple bullet point focused word processor. These collapsible bullet points allow you to create complex flows and expand and contract areas of them to make them easy to understand. Through their tagging and collaboration features, Workflowy makes the ideal tool for working out workflows with your team. Orangescrum Open Source Enterprise Workflow Management feature helps you defining custom task statuses for your projects to improve task execution cycle. It provides a better understanding of your business process and motivates team members to contribute more.
Platforms
Ages of Learners
Categories
WorkFlowy is an organizational tool that makes life easier. It can help you organize personal to-dos, collaborate on large team projects, take notes, write research papers, keep a journal, plan a wedding, and much more.
Pricing
| Plan | Price | Details |
| --- | --- | --- |
| WorkFlowy | Free | Free for use |
| WorkFlowy Pro | $4.99/month | Unlimited lists, backup to Dropbox, password protected collaboration, offline editing, theme & fonts, and premium support. |
Reviews
I was a user of Think Tank 30 years ago
Finally i found it. An equivalent software.
Being able to write Brainstomy shaped my ideas and development in progress in creating simple or very complex documents is a treasure.
I hope they continue to develop with all the capabilities of TT.
Thanks to the developers.
Workflowy is a great task management tool that I have included in the List of Best Task Management Tools for educators and which I will publish in the next coming days. Workflowy is more or less similar to Tasskr in that they both are easy to use and have an intuitive outline format.
Sign in or create an account to share your experiences with this tool.
Shelves
Top Task Management Software 2021
In this post, we're going to introduce and review several task management software for creative teams, which means the ones that don't require too much effort on the learning curve as well as will not shoot up the expenditure numbers on your annual audit form.
1. Quire
Recently, Quire has become one of the rising stars for the award-winning collaborative productivity tools and received a lot of positive reviews and recommendations among business owners. As straightforward as it is, Quire is a perfect task management software that operates both online and offline to drive success for collaborative teams.
The intuitive and simple user interface is always a dealbreaker for anyone who comes across a new task management tool. Quire developer team has spent years of effort to strive for a delicate balance between simplicity and the powerful features. The elegant and intuitive interface is one of the aspects that Quire users appreciate the most.
You can get your teams on board with Quire set up each member with different roles and permissions. Quire allows you to create and manage all of your tasks categorized into different projects. With the hierarchical structure, all of your complex projects can be neatly organized and easily coordinated with other team members.
A lot of the task management software or project management software adopt to-do list as one of the key features. However, Quire brought the flat to-do list to another level and introduced a nested task list - unlimited tasks and subtasks that help you break down big ideas into smaller and doable tasks.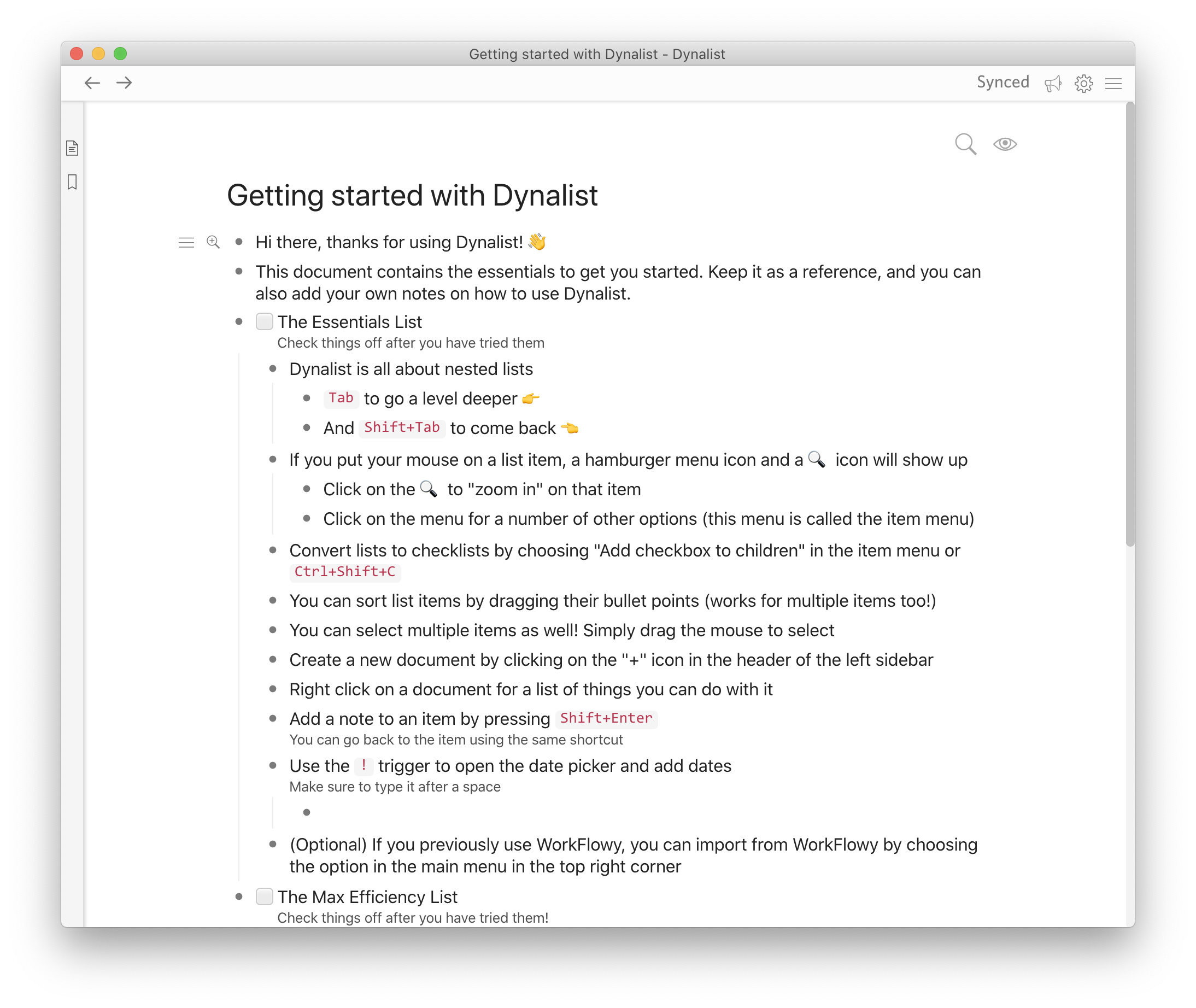 If your team has been working with a whiteboard with sticky notes for a long time, Quire exceptional Kanban board is a perfect option. Unlike other task management platforms, with Quire you can tackle your projects and get focused with both Kanban board and nested task list as a perfect duo. Quire is one of the very few, if not saying the first task management tools allow this.
Quire hierarchical task list lets you brainstorm and plan ahead for your projects. On the other hand, Kanban board is for execution and progress tracking in a visual workflow form. The best thing with Quire is, you can switch between nested task list and Kanban board at anytime to get the best of both worlds.
One of the key features that make a task management software be in a different class from a simple to-do list is the collaboration tool. Your team will always stay in sync with Quire real-time collaboration feature. You can access your projects using your mobile phones and web browsers at anytime. Not many task management solution can keep your data updated in real-time!
To put in a nutshell, Quire is not only an online task management software, Quire is a bridge between your goals and accomplishments.
Some more amazing features that make Quire your best investment:
Multiple Assignees: Assign a task to the people who are responsible for it.
Schedule: Set start date, start time, due date for a task to track the process.
Smart Folders: View and organize tasks from different projects in one place.
External Team: Outsource your tasks and assign to third parties without them seeing everything on your projects.
Share Links: Send an invitation link to your clients so they can access your project without signing up.
Smart Keyboard Shortcuts: Tons of nifty shortcuts that allow you to work on your project without reaching the mouse.
Integrations: Github, Slack, Google Drive, etc.
Export and Import data: Pain-free migrating your data or export your projects to save as a local backup.
Project Template: Save your time by duplicating a project or task to use as a template.
File Sharing: Easily upload a file or attach a file from Google Drive to your tasks.
You don't have to take our word for it, see for yourself about all of the features here. Enjoy, work smart and have fun with Quire!
2. Asana
Asana has always been one of the most popular task management tools. You can use Asana as a personal to-do list or platform to collaborate with your small teams. With the Timeline feature, you will never miss a deadline with Asana. Users can choose different layout mode for each project set up, such as list, board, calendar, etc.
Asana interface uses a delightful theme with a lot of bright colors to enhance users' productivity and working mood. However, it can be a huge drawback for anyone who is in love with the minimalist design.
Different layout modes: tasks, boards, calendar (premium), timeline (premium)
Scheduling a task, assignee
Permission control (premium)
Custom fields (premium)
Google SSO (premium)
Pricing: Starting from $9.99/mo
3. Todoist
Todoist is already in the market for quite some time and they keep adding new features to the list. The interface is straightforward wrapped in a minimalist design. However, Todoist is more suitable for smaller team or personal use, rather than for a big creative team with complex projects.
The task list in Todoist replicates the yellow notepad that everyone is familiar with since college. You can set due dates, recurring dates and priorities for each task.
Todoist also has different task management app for different platforms, from iOS to Android to Windows Mobile. The ability to integrate with a lot of productivity tools such as Gmail, Slack, Thunderbird, etc. is a major selling point of Todoist as well.
Task list
Due dates, recurring dates, priorities
Limited projects numbers
Location-based notifications (premium)
Integrations (premium)
Pricing: starting from $3/mo
4. Smartsheets
Smartsheets is a cloud-based task manager, good for daily task management for small teams. Smartsheet uses the interface that mirrors a spreadsheet. You can collaborate with your team with all of the basic task tracker tools such as due date tracking, task assignment, cross platform collaboration, etc.
Smartsheets is quite a niche tool since it's more like a task management spreadsheet than a common task trackers. So if you're very familiar with using Excel as a free task tracking system, you'll be happy to upgrade to Smartsheets.
Collaborative web-based task tracking systems
Import/Export from Google Spreadsheet
Real-time team collaboration
Timeline, share sheets, create rollups.
Tasks assignment
Pricing: starting from $14/mo
5. Trello
If you are looking for a task management tool with Kanban board, you may have come across Trello at least several times. You can set up a project with many cards representing different tasks and different boards for different progress of the project.
The visual workflow is laid out nicely as you move the cards from columns to columns despite the old fashioned interface. The sub-tasks are nested inside the card's descriptions as checklists so you have a clean and appealing workspace. However, the lack of a list is one of the many reasons that users are seeking for a Trello alternative software.
If your team doesn't need to work with a task list or your projects aren't very complex, Trello appears to be a great option to manage your work.
Kanban board
Schedule a task, stickers, labels
Team collaboration tools
Integrations to power up (premium)
Permission control (premium)
Pricing: Starting from $9.99/mo
6. Wrike
Wrike is an online task management software that is designed to improve the working speed of a team or a group. The layout is very clean and simple so that users can view important data at a glance without any hassle.
One of the highlights with Wrike is the Timeline view. You can just drag and drop the task to set dependency and visualize the workflow. Wrike task list and board view are similar to other task management tools, you can choose the layout that works best for you.
Dashboard
Board, task, calendar, timeline
Integrations: Gmail, Google Drive, OneDrive, Outlook, Salesforce, etc.
Pricing: Starting from $24.80/mo
7. Monday
Monday is a mature task management tool for teams that many companies have been using. The vibrant theme is somewhat similar with Asana, which also uses very upbeat colors to promote good vibes. However, Monday user interface isn't as simple and straightforward as other task management platforms.
Monday has various views such as board, list, chart, map, timeline, etc. which can benefit teams to keep up with their progress. Users can only choose one view for one project though. Given the powerful features, Monday is a good choice for a creative team who handles complex projects on a daily basis. However, abundance of features can be a setback since this task management software requires a huge learning curve and effort, especially for initial setup.
Task Management Definition
Different layout modes: tasks, boards, calendar, timeline (Standard package and above)
Permission control (Standard package and above)
iOS and Android Apps
File Storage: 5GB (Basic package) and more
Pricing: Starting from $25/mo
8. Plan
Plan is a task management software that integrates seamlessly with your calendar. This is also the key selling point of Plan: you can create a task and drag them to your calendar to schedule the task. The interface is also a huge bonus point since everything is simple and elegant.
However, since Plan is a combination of a calendar and a task management tool, your team will have quite a hard time to work with its list view. Simplicity is a bonus point yet also a setback since there are not a lot of collaboration features for teams available on Plan.
Calendar view
Team collaborations
Integrations (premium)
Enhanced security (premium)
Pricing: starting from $6.67/mo
9. Flow
Flow is a flexible tasks management software for teams to collaborate everywhere. User can manage projects, track tasks and stay up-to-date with all of the robust features. Having most of the essential tools for a SaaS task management software, Flow also has MacOs, Windows, native Android and iOS app.
Task list
Kanban board
Milestone tracking, timeline
Start dates and due dates
Open API
Pricing: starting from $5.95/mo
10. Workflowy
Workflowy is a cloud-based tool that enables users to manage their task lists. The minimalist interface perfectly mimics a note-pad which users can jot down ideas and break them into different nodes. Workflowy works best to organize scattered ideas into a task list format.
Task Management Software
Though Workflowy aims to target personal use as a simple to-do list, they still allow users to share the list for team collaboration. Users can also hide and archive items that are not important or already completed. The one drawback of Workflowy is its lack of color formatting for the list.
Minimalist design: just as a notepad
Ease of use: good for personal to-do list
Zoom in and zoom out a node on the list
Keyboard shortcuts
Share links to other users
Pricing: starting from $5/mo
Workflowy Task Management Software
11. Basecamp
Basecamp expands to an online task management and work allocation software for teams from a simple group chat application. Now Basecamp has combined all of the features such as messaging, schedules, to-do lists, file storage, etc. to one flexible task management tool. One of the major selling points of Basecamp is the client portal feature that can be a dealbreaker for a lot of project managers.
Cloud-based task management software
Cross-platform availability: MacOS, Windows, iOS, Android
24/7 online support
Calendar management, discussion boards, group chat
Client portal
Pricing: starting from $99/mo
12. Podio
Workflowy Task Management System
Podio is a cost-efficient online collaboration platform which is highly customizable. Users can "build" their own workplace by putting different applications together and everything will be laid out in one single dashboard. The interface is simple and straightforward. You can add or remove the sections that best suit your needs.
Workflowy Task Management
Many reviews have stated that Podio is far from a full-fledged project management software, however, there are a lot of collaboration tools that you can take advantage of. Podio has the contact management feature that helps you set up your address book easily. The integrated chat feature enables you to stay in touch with your teammates at anytime.
Workflowy Task Management Tool
Online collaboration tool
File sharing
Open API
Extensions: add-ons for better experiences
Contact management
Pricing: starting from $9/mo